L&D WAGNER DOG AFRA,  CGN  (pointed)
"Afra"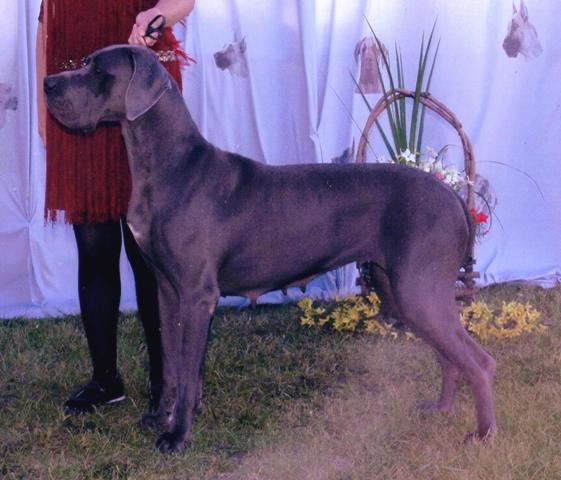 ** Please scroll down for photos, show results and pedigree **

Height: 30"
Weight: 120 lbs.

MET. Dog 8620/03
AKC#: WS11965701
CKC#: 1085868

Afra has been tested for fawn/brindle recessive gene and  is KbKb
      and does not carry for fawn/brindle


Afra is my foundation female for my kennel.  She arrived home from Hungary via Luxembourg just before Christmas 2005.
  She was everything I was looking for in a female, her European substance and bone, beautiful headpiece, incredible physical presence and stamina, and most of all, her amazing temperment.  As strong as she is physically,  she is just a sweet little girl to be around.

Written comments from Great Dane Club of Canada, 
Western Division Regional Specialty, August 2007
breeder judge, Tony Rewston, England

direct quote
""""Open Blue Female""""
1st.  Haavisto's L&D Wagner Dog Afra, CGN  
"A small but nicely balanced bitch with plenty of bone and she had substance throughout her body and of excellent colour.
She moved well enough and kept her shape pretty well.
When it came to the challenge she looked a little overdone in head and ear."

El Loco Sfinx Kennel, includes many national and international champions for many generations.  
Afra's sire, El Loco Sfinx Azzurro, "Conte" was ranked #5 Dane in Hungary on their list for the Top 25 for 2002 (based on points accumulated from showing similar to the Canadian and American system), 

Afra's dam, Blue Devil Capella ranked #13 for the same year.
Afra's sire was shown as a Veteran, and lived to  9 1/2 years.
For photos and titles please continue to the bottom of the page, click on highlighted names for photos.

Afra is now retired from conformation showing,   Afra recently gained her CGN title (Canine Good Neighbour) and graduated from her obedience classes! 

Afra has produced from her first litter one Canadian Champion to date, CH Quicksilver El Loco Blu Angel, "Lucy" and one pointed boy, Quicksilver El Loco Blu Arthur, "Arthur", and  her second litter four young ladies  just entering the ring, Quicksilver Sureshot v Sharcon, "Annie", Quicksilver Clmtjane v Sharcon, "Janie", Quicksilver Pearlhrt v Sharcon, "Pearl", and Quicksilver Bellestr v Sharcon, "Belle" who is pointed.. 

Afra is a grandmother to 10 puppies from her daughter "Pearl"   x and our own "Jake ", please see the photos section for a picture of her with her granddaughter at 9 years of age..

In limited showing her results are as follows:

3 - Reserve Winners (R.W.)
3- Winners Bitch (W.B.)
2- Best of Opposite Sex (B.O.S.)

Afra was certified as breeding stock in Hungary and her health tests are being repeated here in Canada, and I am pleased to share that her  cardiac, and CERF(eye exam) is normal, and her hips are rated as good.  Afra's thyroid is normal, (veterinarian full blood panel test).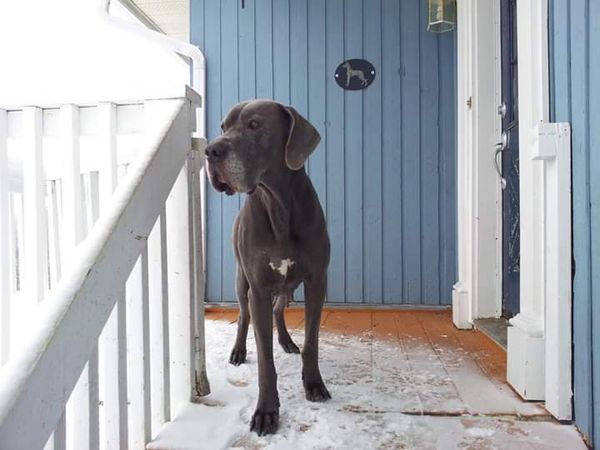 SHOW RESULTS


SHOW          DATE          JUDGE          CLASS          RESULT

Evelyn Kenny Kennel Club          16/07/2005     Frank Kane          Open, Female          3
Evelyn Kenny Kennel Club          17/07/2005     Edd E. Biven          Open, Female          2
Evelyn Kenny Kennel Club          18/07/2005     Michael Hill          Open, Female          3
Alberta Kennel Club          29/07/2005     Merla Thompson       Open, Female          3
Alberta Kennel Club          30/07/2005     Patricia Hastings      Open, Female          4
Alberta Kennel Club          01/08/2005     Lawrence Stanbridge Open, Female          3
Great Dane Club of Canada Regional Specialty    10/09/2005     Donna Conod          Open, Blue Female        1
Skaha Kennel Club          16/09/2005     Barbara R. Watt       Open, Female          1/RW
Skaha Kennel Club          17/09/2005     Virginia L. Lyne        Open, Female          1/RW
Red Deer & District Kennel Club          05/11/2005     Sharon Derrick         Open, Female          2
Red Deer & District Kennel Club          06/11/2005     Judy Horton          Open, Female          1/WB
Calgary Kennel Club          25/11/2005     Doug Gaudin          Open, Female          2
Calgary Kennel Club          26/11/2005     Leslie Rogers          Open, Female          3
Alberta Kennel Club          03/02/2006     Doug Windsor          Open, Female          2
Alberta Kennel Club          04/02/2006     Michael Leonard       Open, Female          2
Alberta Kennel Club          05/02/2006     Edna Gonzalez         Open, Female          1
Calgary Kennel Club          10/03/2006     Honey Glendinning    Open, Female          2
Calgary Kennel Club          11/03/2006     Edward Wild          Open, Female          2
Calgary Kennel Club          12/03/2006     Cheryl Stuber          Open, Female          2  
Lethbridge & District Kennel Club          25/06/2006     Thomas Alexander    Open, Female          1/RW
Great Dane Club of Canada National Specialty     05/08/2006      Lester Mapes           Open, Blue Female        1          
Battle River Canine Association Show          14/10/2006      Lesley Hiltz          Open, Blue Female        1
Lethbridge & District Kennel Club          22/06/2007      Sharon Derrick         Open Female        1/WB/BOS
Lethbridge & District Kennel Club          23/06/2007      Rick Fehler          Open   Female        1/WB/BOS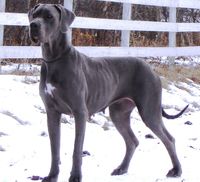 HCH-HSCH-HGCH-HR CH-16xCAC-4xHFGY-3xR.CAC-4xCACIB-3xR.CAC-4xCACIB-3xR.CACIB-EUDDC R.CAC-DDC'01.'02.kan (Blue)

HJCH-'97.CHlll-HCH-HGCH-'99.CHll-00'Ch of Ch-INT CH Kolyok KI.GY-5xHPJ-HDGY (Blue)